Hi, I'm Caitlin.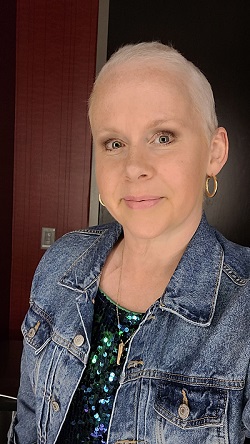 I'm a lot like you.
I've struggled with overwhelm and anxiety about my cancer diagnosis. I've put pressure on myself to "eat perfectly" so the cancer "doesn't come back." I've felt helpless after being told nothing I did, outside of conventional cancer treatment, was helpful.
I've longed for the carefree life I had before my diagnosis.
I've doubted my own intuition and instead, listened to the "experts' rules" about how to treat my breast cancer.
Thankfully, I didn't give up on my quest to feel more empowered and take back control over my own cancer journey.
I've found an approach to thriving with breast cancer and it is life changing.
This approach has transformed not only me, but also my practice as a dietitian-nutritionist.
I want to help you learn how to thrive after your cancer diagnosis.
As a child, I was always interested in nutrition. Growing up, I had asthma, allergies, digestive issues, and I was sick more than my friends. Through trial and error, my mother helped me discover which foods triggered some of my conditions. It fascinated me to know that food had such power over how we felt.
I guess it was destiny then that I decided to become a dietitian-nutritionist.
After college graduation, I worked in Japan for 2 years and then worked in corporate America before deciding to pursue my passion and get my masters in nutrition.
But being trained as a dietitian-nutritionist did not equip me to deal with the psychological aspects of a stage 3 breast cancer diagnosis.
I felt anxious. Helpless. Mad. Confused.
Then I started taking action.
If my traditional doctors were telling me there was nothing to do besides traditional cancer treatment, I was going to prove that there WERE things to do to increase my chances of a full recovery.
So I dove head first into cancer healing research, PUBMED, podcasts, books, papers, websites and courses.
I learned healing factors that other cancer thrivers used on their cancer journey — giving themselves the best chance at living a long, healthy life.
Then I found the empowerment I had been searching for that helped me reclaim my body.
It took away the fear. It replaced it with coming alive to what's possible in my life and my health.
I've learned what to prioritize when it comes to healing from cancer. 
Yes, I pursued conventional medicine for breast cancer treatment — surgery, chemo and radiation felt like the right options for me at the time.
But I ALSO layered in holistic treatments and significant lifestyle changes on top of the traditional things I did.
This helped me recover faster and with fewer side effects than others typically experience going through the same thing.
I learned how to thrive in spite of having a cancer diagnosis.
I'm here to offer you radical hope.
Now it's your turn.
Caitlin's Education & Training
I lived, studied, and worked overseas in Europe and Asia for several years. Then after several years in corporate America, I felt the urge to pursue a career in health and nutrition. So I went back to school to earn a masters in nutrition.
After graduation, I completed a full time, nine month dietetic internship. During my internship, I counseled hundreds of patients with conditions such as cancer, cardiovascular disease, kidney failure, diabetes, overweight, obesity, and patients in the ICU.
After becoming a registered dietitian-nutritionist, I completed three additional world-class holistic trainings for healthcare practitioners.
Then, in 2022, I was given the life-changing diagnosis of stage 3 lobular breast cancer.
It rocked my world.
After 1 year of conventional breast cancer treatment along with holistic practices to help me heal, I'm feeling more full of life than I ever have!
I now have a private practice where I counsel others who are cancer thrivers and who are ready to make lifestyle changes and tap in to their inner wisdom so they can heal.
I love being able to make a difference in people's lives.
I help clients live a healthy and meaningful life. My passion is to help clients thrive beyond the diagnosis – as I myself discovered what works best for my health and well-being.
There is a way for you, too.
Let me help you find your way, so you too can experience life as it is meant to be – feeling your best during and after your cancer treatment. Free to love yourself and your life.
When I am not helping clients make lasting changes in their health, I enjoy spending time with my husband and being a mother to our two active daughters. I love cooking in the kitchen, painting, spending time with family and friends, traveling, taking walks, meditating, volunteering with my family, reading nutrition books, and providing resources that educate and uplift.
Formal Degrees and Certifications
Sweet Briar College, BA, French, Sweet Briar, VA, 1994
Georgia State University, Master of Science in Nutrition, Atlanta, GA, 2011
Emory University Hospitals, Dietetic Internship, Atlanta, GA, 2012
Licensed and Registered Dietitian, 2012
Oxford Biomedical, Certified LEAP Therapist for Food Sensitivities, 2014
Health Coach Institute, Transformational Coaching Method Certified Coach, 2014
Health Coach Institute, Health Coach, 2016
Radical Remission Cancer Coach, in training 2023
This website uses affiliate links to products that help support my work while connecting you with useful items. These products cost no more than if you were to buy them elsewhere, but I earn a small commission when you purchase them using the links provided.